Frequently Asked Questions
Here are answers to some commonly asked questions to help our charity sellers navigate the move to managed payments.
What is managed payments?
Why is eBay introducing managed payments?
With eBay managing payments, we are simplifying and streamlining the payments experience on eBay to enhance the overall customer experience for both buyers and sellers on our marketplace. For sellers, this means streamlined operations with one place to sell and get paid. For buyers, this means more flexibility and choice in how they pay, with more ways to pay than ever.  
Why is eBay moving to manage payments, rather than sticking with the current relationship with PayPal?
eBay and PayPal both came to fruition two decades ago, at a time when consumers were still getting used to entering their credit card information online. Times have changed significantly, and we recognize that managing payments is a key foundational component of modernizing our marketplace, one that provides the right flexibility to shape experiences between buyers and sellers. 
Why is eBay charging charities fees now?
Charities still benefit from eBay waiving standard listing fees. However, charity sellers using managed payments will no longer pay PayPal fees. Instead, they'll pay an updated final value fee at a special charity rate, with no third party payment processing fees. Most charities' fees should be lower overall than they were before
How much will charities be charged now?
Once eBay starts managing payments, charities will pay only one Final Value Fee, consisting of a variable percentage of the total amount of the sale (including shipping, taxes and any other applicable fees), plus a fixed charge per order.
The charity rate is 1.1% +17p per transaction (VAT not included), and charities will not have to pay third party payment processing fees. Charities will now pay less than they were paying before.
Example for UK charity direct seller fee (Then vs. Now)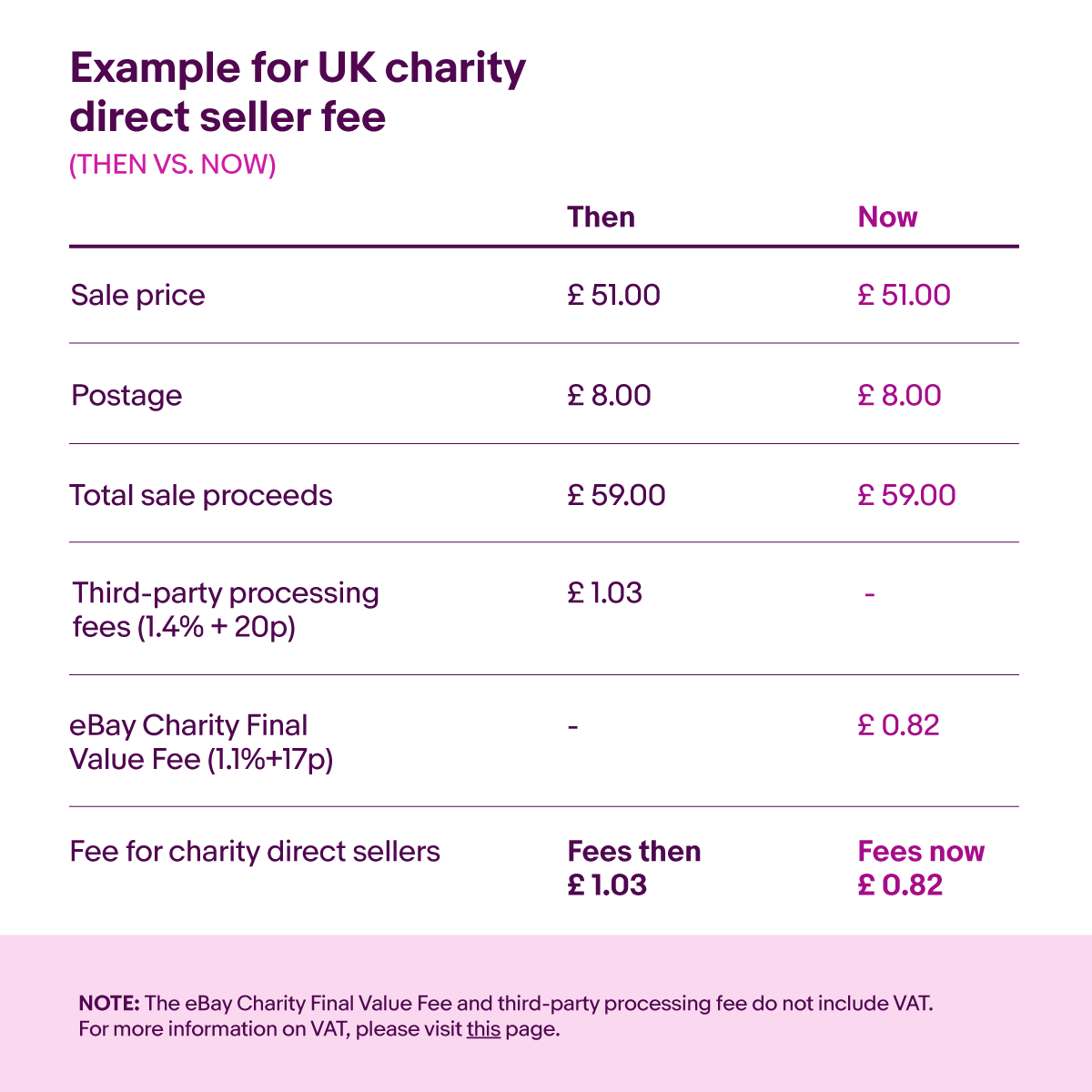 How does managed payments differ from PayPal?
Before eBay managed payments, charity sellers had to juggle between two sets of accounts, reports, online tools, policies, and customer service. eBay now manages the end-to-end selling experience, including payments, meaning that charities will have one place to manage their sales activity every day. There are also no third-party processing fees for managed payments.
What are the benefits to charities?
Managed payments make it simpler for charity sellers to get paid on eBay. 
This means  
No more PayPal payment processing fees

Charities get paid directly to their chosen bank account, not their PayPal account  

Most charities will pay less in fees than before

Charities can also access everything they need in one place

: consolidated fees, customised reports, refunds and returns and labels. If you use third-party tools, there should be no change to how you use them.
How long will it take to receive the money from sales?
With eBay managed payments, payouts are sent directly to the seller's bank account, eliminating the need to transfer funds from PayPal. Sellers can choose to schedule payouts weekly or daily, as funds are available. Payouts to seller bank accounts are initiated within two business days of an order confirmation, regardless of the buyer's payment method.
How will this change charities' invoices?
eBay is now creating a simpler and more modern process to pay your eBay fees and expenses.
Following your activation for managed payments

,

you will no longer receive a monthly invoice and your eBay selling

fees and expenses will be collected from your processing and available funds

.

If your

processing

 and available funds are not sufficient to cover these amounts, we will charge your payment method on file (debit or credit card, and/or linked bank account). 

Examples of eBay selling fees include but are not limited to:

insertion fees, listing upgrades, and shop subscription fees.  

You will be able to find information on fees and expenses via the reports functionality in the

Payments

tab in Seller Hub. 
You must still pay any outstanding amounts that are reflected on existing invoices.
How much notice will you be giving charities before the change to managed payments takes place?
Charity sellers will be invited in phases to onboard to the managed payments platform and will be allowed several weeks within which to transition over to managed payments. Charities can decide when to initiate the onboarding, however eBay encourages sellers to migrate as soon as they receive the invitation, so that they can make use of the benefits of managed payments.
When and how do charities register?
Sellers who have been identified as using eBay features and tools that are compatible with managed payments will receive a notification to join in the coming months.  The notification will provide detailed instructions on the steps they must take to update and verify their account information.
What happens if we miss this deadline to register?
If you receive a notification, we recommend that you register as soon as you can, to benefit from the managed payments platform. Eventually, all sellers will be required to migrate to managed payments.
What happens if charities don't register? Can they stay with PayPal?
Managed payments is the new way to do business on eBay, and eventually all sellers will need to transition. Please see here for further information. 
What will happen to charities' PayPal accounts when they have changed to managed payments?
Donations to the charity from Give at Checkout and Community Selling will continue to be paid out through PayPal Giving Fund, to the charity's registered PayPal account.
What will happen to charities' active listings when moving over to managed payments?
With managed payments, charities' active existing listings and buyer feedback will be automatically updated and will reflect the different ways buyers can pay.
When items sell, will charities still receive credit for our Final Value Fees?
Once activated for managed payments, charities will pay an updated charity specific Final Value Fee, consisting of a percentage of the total amount of the sale, plus a 17p fixed fee per order. This fee is not inclusive of VAT. The final value fee will be automatically deducted from the sales proceeds and the rest will be paid out directly to a charity's bank account. For more information on all applicable fees and how they are calculated, please click here. 
Once you introduce managed payments, will buyers still be able to pay with ApplePay, credit card or debit card?
Managed payments gives buyers a larger selection of payment options, such as credit cards, debit cards, Apple Pay, Google Pay and PayPal. This will all be done through eBay without a seller needing separate accounts to accept these payment methods. There will also be the option for buyers to save and store card information for future use. This experience will be similar to that of other online retailers. All payment options offered by eBay that are compatible with the buyer's device or browser will automatically show up during checkout. 
What happens if one of our Community Sellers is doing managed payments but we're not yet registered?
This should not affect charities. Community Selling proceeds will continue to be paid out through PPGF to the charity's PayPal account.
How will charities receive payments from Community Sellers? Will this change?
This process is currently not changing, donations from Community Sellers benefiting charities will continue to be processed by PayPal Giving Fund. Once a month, PayPal Giving Fund will collect your donations made from the generosity of eBay sellers, and your charity will receive this payment into your PayPal account. 
What documents or information do I need in order to be prepared for managed payments?
Make sure you have the following handy to expedite your enrollment.
Nonprofit/ charity organisational details:
Registered charity name and Charity number
Document for evidence of nonprofit organisation and written constitution of the organisation (as applicable)
Charity's logo (maximum file size of 12MB, minimum quality for jpeg/jpg of 90%)
Charity specific details such as organisation's donor/volunteer base, cause areas, and mission statement
Nonprofit/ charity's bank account details:
Online banking access (if available)
Account number (in the name of your charity organisation)
Primary contact (eBay account holder) & trustee details:
Primary contact is authorised to manage this eBay account on behalf of the nonprofit organisation. Charity trustees are the people who share ultimate responsibility for governing a charity and directing how it is managed and run. A trustee may also be the primary contact for the eBay account.
A trustee needs to authorise the primary contact to manage all eBay related activities on behalf of the nonprofit organisation. The letter of authorisation needs to be completed, printed on company letterhead and signed by a trustee. The sample letter of authorisation can be downloaded while going through the onboarding flow.
Nationality

Letter of authorisation (applicable if the account holder is not a trustee)
Why is a business account required to onboard to Managed Payment?
In order to migrate your charity to managed payments, your account needs to be a business account. When you register for managed payments, you will be prompted to switch to a business account. There is no additional charge and you will now benefit from the special charity rate and all your seller history will be retained.
What is included with a business account?
By upgrading your account, you will have access to additional features such as Seller Hub which allows you to manage your orders, optimise your listings and research and monitor your performance. You can find more details about business accounts here. 
Why do you need additional information from me aside from what you already have?
All of the information shared during registration allows us to send your payouts and comply with Anti-Money Laundering (AML) and know-your-customer obligations, which helps keep eBay a trusted marketplace. We will use and share the information you submit as described in the Payments Terms of Use. Learn more about how eBay protects your personal information.
How does eBay use my ID information once verification is complete?
We protect your personal data through technical and organisational security measures to minimise risks associated with data loss, misuse, unauthorised access and unauthorised disclosure and alteration. To this end we use firewalls and data encryption, for example, as well as physical access restrictions for our data centers and authorisation controls for data access. 
You can find further information on our data security procedures in our Security Center.
What if I am a new charity that is not set up yet?
If you are a new charity that is not on eBay yet, please click here for instructions to get you set up. By 2021, eBay will manage payments for most sellers, including charity sellers. Check your email address on file or My Messages on eBay for a notification from us to register and have eBay manage your payments. If you haven't received a notification yet and you are interested, please contact us at charityteam@ebay.com.
Can I list on eBay sites outside of the UK?
You may create listings on select eBay sites outside of the United Kingdom, such as the United States (www.ebay.com), Canada (www.ebay.ca) and Germany (www.ebay.de). We will continue to expand international selling to more countries in the coming months. However, international buyers can still shop on ebay.co.uk if you ship internationally. For more details, click here.