Frequently Asked Questions
Here are answers to some commonly asked questions to help our charity sellers navigate the move to managed payments.
What is managed payments and how does it affect charity sellers?
Managed payments provides an enhanced buying and selling experience on eBay. It provides sellers with one place to sell and get paid. For buyers, it provides more payment options like credit, debit & gift cards; Apple Pay; Google Pay; PayPal and PayPal Credit. The payouts get deposited directly into your charity's bank account. You will also be able to leverage customized reports to understand the sources of payouts from payment methods used on eBay. If you use third-party tools, there are no changes to how you use them. See here for more information on managed payments.
If I am a charity, what should I do now to prepare for managed payments?
Charities will be onboarded to managed payments in a phased manner. If you are already registered as a charity, you will be notified in phases throughout this year. As we continue to enable charities for managed payments, eBay will work closely with charities to ensure that the managed payments experience reflects your needs.
Please make sure that you are signed up for email notifications from eBay and the emails do not end up in your spam folder. By early 2021, eBay will manage payments for most sellers across the world, including charity sellers. Stay up-to-date on the managed payments roll-out for charities by returning to this page periodically for updates. If you have not been contacted but interested in registering for eBay's managed payments, please contact us at charityteam@ebay.com. 
If I am a charity direct seller, how are the fees impacted by migrating to eBay's managed payments?
Once you are activated on managed payments, we charge one final value fee when your item sells, and you don't have to worry about third-party payment processing fees. Once your nonprofit status is verified, you will pay a final value fee at a special charity rate. This is calculated as 2% of your total amount of the sale, plus $0.30 per order. 
The total amount of the sale is the entire amount the buyer pays, including any handling charges, the shipping service the buyer selects, sales tax, and any other applicable fees. If you have been notified to register for managed payments, please click here to find more information on all applicable fees and how they are calculated. 
Here's an example of how managed payments may work for you. The example below is for illustration only. Your specific situation will vary.
Then
Now

Sale price (incl taxes)

$ 51.00

$ 51.00

Shipping

$ 8.00

$ 8.00

Total sale proceeds (incl taxes)

$ 59.00

$ 59.00

Third-party processing fees

(2.2% + $0.30)

$ 1.60

–

eBay Charity Final Value Fee

(2.0% + $0.30)

–

$ 1.48

Total fee

$ 1.60

$ 1.48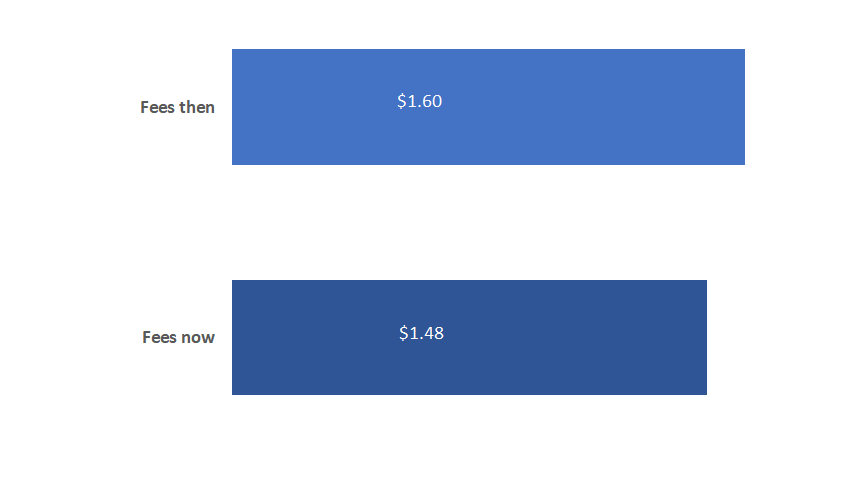 If I am a charity direct seller and have received an invite to register for eBay's managed payments, what should I do now?
Keep the documents highlighted in the next section handy for easy reference and registration process!
Login to your eBay account and click on the link to register for eBay's managed payments

You will be directed to the onboarding flow that takes you through the registration process

Select the account type as "Business" and the business entity sub-category as "Nonprofit/ Charity"

Submit the required details as you navigate through the registration process

Watch for a confirmation email once you submit your registration details

You will hear from eBay on the status of your registration within 3 business days

Once your verification is successful, you will be notified with an email on the activation of your account on eBay's managed payments
What documents or information do I need in order to be prepared for managed payments?
Make sure you have the following handy to expedite your enrollment.
Nonprofit/ charity organizational details:
Registered charity name and EIN

Registered address

Phone number

Email address

Website URL

Proof of nonprofit status (such as IRS 501c3 document)

Charity's logo (maximum file size of 12MB, minimum quality for jpeg/jpg of 90%)

Charity specific details such as organization's donor/volunteer base, cause areas, and mission statement
Nonprofit/ charity's bank account details:
Online banking access (if available)

Account number (name on the account should match the name of the charity/ chapter)

Routing number
Primary contact (eBay account holder) & principal officer details: 
Primary contact is authorized to manage this eBay account on behalf of the nonprofit organization. Principal officer has the ultimate responsibility for implementing the decisions of the organization's governing body. This should be the same as the principal officer entered in Form 990, Item F in the header. The primary contact and principal officer may be the same person.
A principal officer needs to authorize the primary contact to manage all eBay related activities on behalf of the nonprofit organization. The letter of authorization needs to be completed, printed on company letterhead and signed by a principal officer. The sample letter of authorization can be downloaded while going through the onboarding flow.
Full name

Date of birth

Government issued identification (Social security number in the US)

Home address

Job title

Nationality

Letter of authorization (applicable if the primary contact is not a principal officer)
Why do you need additional information from me aside from what you already have?
All of the information shared during registration allows us to send your payouts and comply with Anti-Money Laundering (AML) and know-your-customer obligations, which helps keep eBay a trusted marketplace. Our data security procedures ensure that the information you share with us is safe. We will use and share the information you submit as described in the Payments Terms of Use. Learn more about how eBay protects your personal information in our Security Center. For more information, please visit the page on Managed Payments.
How does eBay use my ID information once verification is complete?
Our data security procedures ensure that the information you share with us is safe. We will use and share the information you submit as described in the Payments Terms of Use. Learn more about how eBay protects your personal information in our Security Center. For more information, please visit the page on Managed Payments.
As a charity organization, how can I manage multiple seller accounts on managed payments?
Multi-User Account Access (MUAA) is a new eBay feature that allows one user to delegate access and functions for another user to perform on their behalf. Both users must have an eBay account, with their own individual passwords. This is specifically helpful for charity organizations when there is a need for multiple users that would sell on behalf of the charity. This feature will replace the seller administration tool.
The advantage of using MUAA is that it enables all the 'delegates' to be tied to the charity's 'delegator' account with administrative privileges and provides:
Added security

Added privacy

Role and permission based access controls

Ability to scale and grow your business

Detailed activity logging

Separation of the delegate's individual listings and the assigned account's listings with the access controls provided by the delegator
See here for more information on MUAA.
What will happen to my active listings when I migrate to managed payments?
When eBay manages your payments, all of your existing listings and buyer feedback will be retained. Any listing without existing activity will be automatically updated to use eBay managed payments.
What reports will be available on managed payments?
Once you are on the managed payments platform, you can download and export reports from the Seller Hub. Examples of reports include monthly statements, payout, order and post-transactions reports, performance insights, and if applicable, annual 1099-K/tax reports. The transaction report provides details of each transaction, including the fee that was charged on the same. The payout report provides a reconciliation of all transactions that contributed to the daily payout into your bank account. Payout schedule can be set to daily or monthly through the seller hub.
What if I am a new charity that is not set up yet?
If you are a new charity that is not on eBay yet, please click here for instructions to get you set up. By 2021, eBay will manage payments for most charity sellers. Check your email address on file or My Messages on eBay for a notification from us to register and have eBay manage your payments. If you haven't received a notification yet and you are interested, please contact us at charityteam@ebay.com.
How will charities receive payouts from eBay community selling?
This process is not changing with managed payments at this time. Donations from eBay's community sellers will continue to be processed by our partner PayPal Giving Fund. Once a month, PayPal Giving Fund will collect and deliver 100% of all donations collected for that charity, through the generosity of eBay sellers. Your charity will continue to receive these donations to your PayPal account.
Can I list on other countries' eBay sites such as ebay.co.uk, ebay.au, etc.?
You may create listings on select eBay sites outside of the United States, such as the United Kingdom (www.ebay.co.uk), Canada (www.ebay.ca) and Germany (www.ebay.de). We will continue to expand international selling to more countries in the coming months. However, international buyers can still shop on ebay.com if you ship internationally. For more details, click here.