About Blind Center of Nevada
The Blind Center of Nevada assists people who are blind or visually impaired in reaching their highest physical, social, intellectual, and economic potential. The organization provides emotional and physical support, personal enrichment programs, as well as skills training, educational resources, and ongoing assistance to help the visually impaired find employment and personal independence.
The organization was the dream of F. Marion Keele, who lost his sight in 1934 at age 38. Marion and his wife, Effie, spent time at the Utah Blind Center in Salt Lake City, where they learned to teach crafts and skills to others who were also visually impaired. Marion was inspired to provide this type of sanctuary and learning center in Las Vegas. When he died in 1955, one of his students, Audrey Bascom Tait, took on his mission and enlisted the help of the Lion's Club to open the Sightless Center in Las Vegas. The Sightless Center was transformed into the Blind Center of Nevada in early 2000, with a renewed commitment to help visually impaired individuals see beyond their limitations and discover their personal greatness.
Fundraising Need
The nonprofit organization initially relied solely on charitable contributions from organizations, foundations, and individuals to cover its operating costs, but realized it needed a more stable and sustainable financial model to support its mission.
In 2003, the Blind Center began collecting electronics, such as computers, servers, printers, and cell phones, for recycling and refurbishment for resale. The program enables the organization to provide a service to the community and skills training and employment for the visually impaired,as well as income for the organization. More than 50 percent of the revenue that funds the center's operating costs comes from selling refurbished electronics on eBay. The Blind Center is expected to make $1 million in revenue in 2019.
Read how the Blind Center of Nevada's eBay store provides independence for the blind and visually impaired.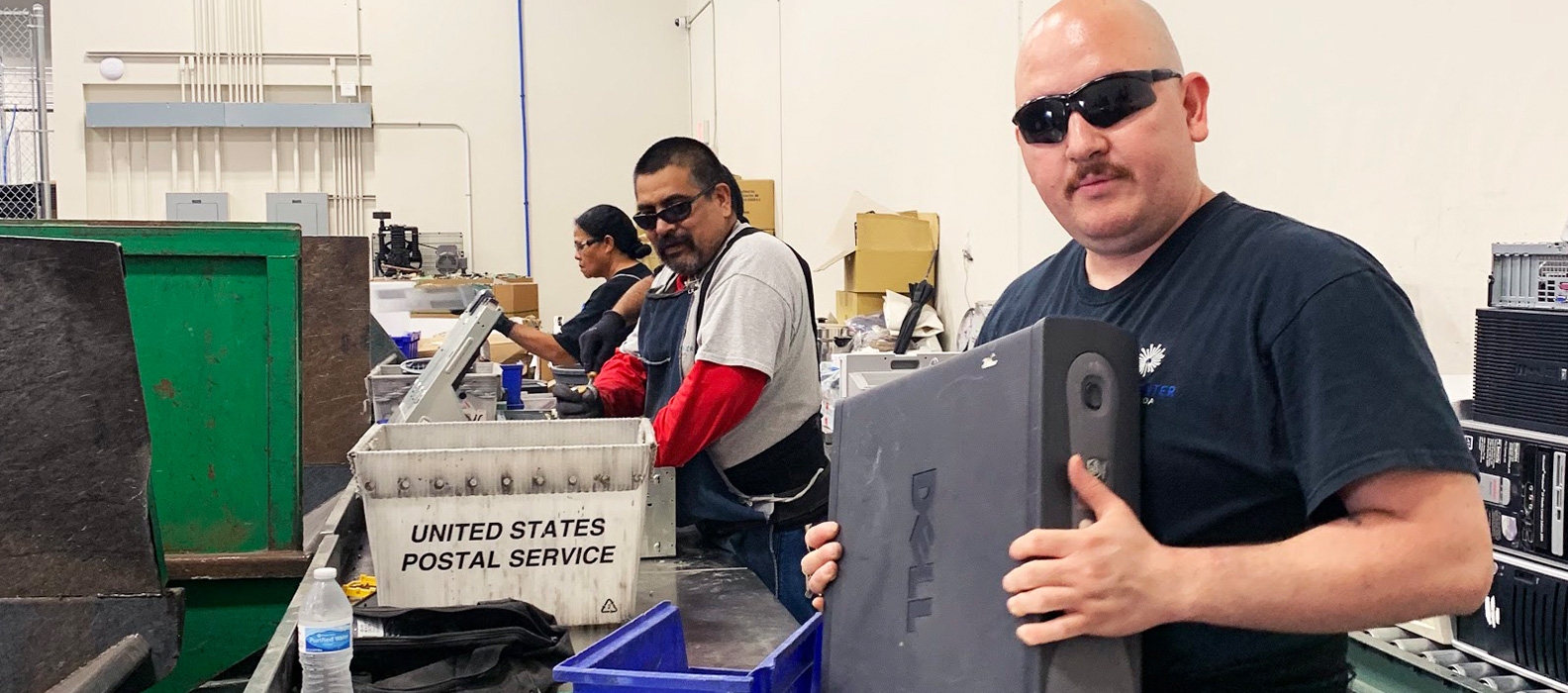 eBay for Charity Solution: Direct Selling
The Blind Center of Nevada turned to eBay in 2007 at the guidance of Gary Nicholson, a member of the Center and a personal eBay seller. Gary encouraged the organization to broaden its customer base beyond the greater Las Vegas area, tapping into the global online marketplace to sell its refurbished electronics. The Blind Center sales its products on its eBay for Charity store, directing 100 percent of the sales proceeds directly back to the organization.
Impact
Before its eBay for Charity store, the electronics program contributed 10 percent to the organization's operating budget. Today, the Electronics Recycling Center is a sustainable enterprise that's largely self-sufficient. The program funds more than 50 percent of the Blind Center's annual budget, enabling 100 percent of donor contributions to go toward programming at the Center. The Blind Center recycles or repurposes about 2 million pounds of electronic waste a year.
In 2018, the Blind Center of Nevada moved to a new 35,000 square foot facility, expanding its program beyond electronics. The Center's Las Vegas location makes it uniquely positioned to capitalize on product donations from the hospitality industry, including furniture and fixtures. The center added a new culinary center, computer lab, and meeting and community spaces, hoping to capitalize on the job opportunities in food services in the valley. In its first year, the center has grown its membership from 300 to about 400.
In the words of Todd Imholte, Chief Development and Marketing Officer at the Blind Center of Nevada: "We LOVE being involved with eBay and no one person or entity has done more for the Blind Center than eBay.  It's given us the ability to help so many people and to frankly, save lives. There are 18 people who are visually impaired who have jobs of the 29 employees in our electronics business and they are able to support their families as a result of the machine that is eBay. We're grateful for this. When eBay talks about IMPACT, it says, 'eBay exists to empower people and create economic opportunity.'  There's no better living example of that than here at the Blind Center of Nevada."
Learnings & Benefits
Todd offers these tips to other nonprofit organizations looking to create a more self-sustaining operating model:
Align your approach with your mission. For us, building a business model that empowers our blind and visually impaired to contribute in a meaningful way was essential. Nationally, approximately 80 percent of people that are blind are unemployed. eBay enables our members to obtain meaningful jobs at the Blind Center, giving them confidence and the financial means necessary to support their families.
Leverage eBay's access to a global donor base. There's opportunity to develop relationships with people from all over the world through eBay and people love to buy when they have an opportunity to support a good cause. eBay's tools make it easy to connect and build relationships that have lasting value to the Blind Center.
Communicate the benefits with donors. Donors want to know how their support matters in the lives of those who need the help. When we bring donors on tours and show them that working with eBay allows us to employ people in telemarketing, listing, dismantling, technology, and more, they want to get involved. For our members, eBay changes lives and we want our donors to see first-hand the scope of changes their contributions make in the lives of those dealing with blindness.
Final Thoughts
"The impact eBay has on the blind community in Las Vegas is really astounding," said Todd. "The goods we touch end up in other parts of the world. For example, someone in South America may be seeing the Internet for the first time thanks to a computer we refurbished and sold on eBay. We could not have the financially sustainable business model that we have today without eBay."